The one and only best to rule the SPEEDSOFT fields with a simple exception. There is no air line!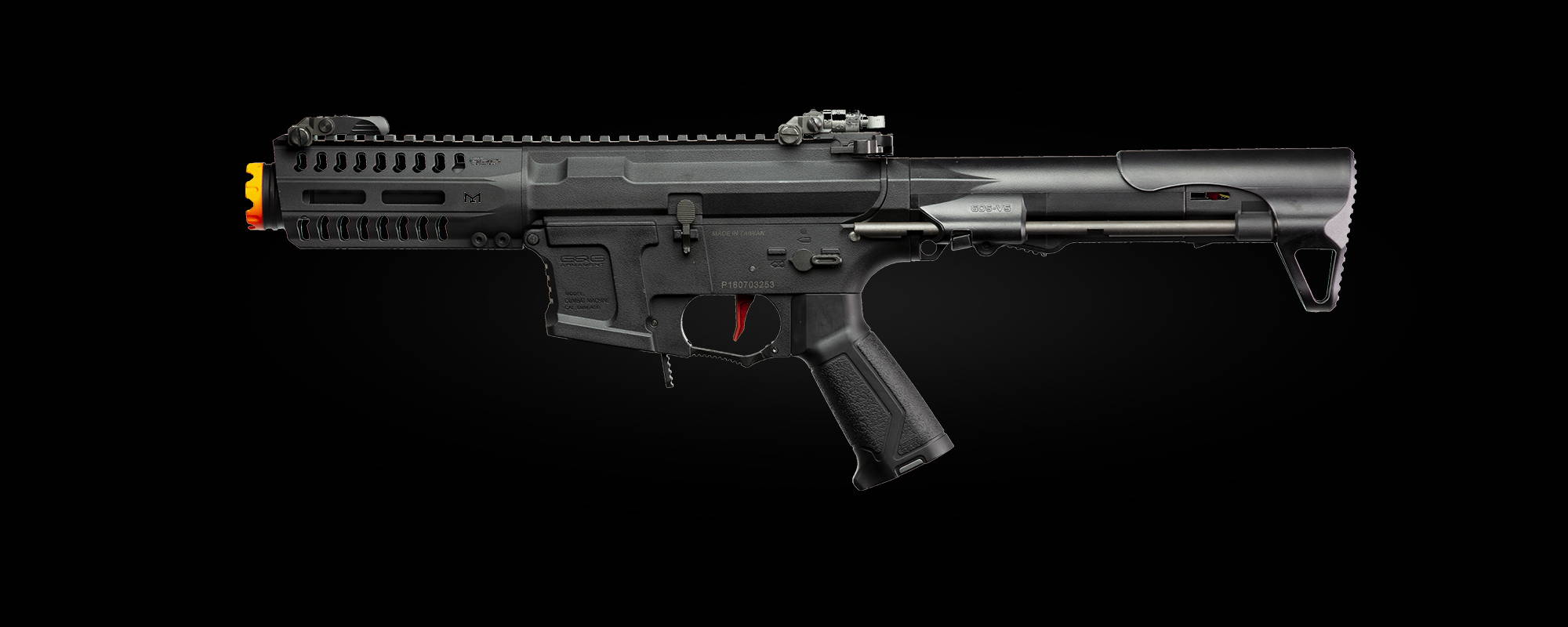 Build a new ARP9 from the ground up to your specifications, choosing from all available internal upgrades and external furniture.
INTERNALS
Gearbox Shell: G2 Reinforced Gearbox
Gear Set: (~20:1) 18:1 Rocket Dual Sector Gear (Short stroked), 18:1 G&G Spur Gear, 18:1 SHS 10 tooth Bevel Gear.
Motor: G&G Ifirit 25,000 RPM Motor (Long Type)
MOSFET: Gate Titan V2 Advanced (Rear Wired) with USB Link
Bearing Set: Full set Umbrella Armory 8mm Steel Ball Caged Bearings
Spring: Guarder Steel Tempered Spring (SP160)
Piston Head: Lonex POM Piston Head (Washer Mod)
Piston Body: Rocket Short Stroked, 15 Steel tooth heat treated Piston
Trigger: Retro Arms CNC Red "J-Type" modified trigger
Tappet Plate: Modified Tappet Plate TO 8.96mm
Tappet Spring: G&G Tappet Spring
Cylinder: G&G 3/5th Ported Cylinder
Cylinder Head: Modify Reinforced Double O-Ring Cylinder Head
Air Nozzle: VFC POM Air Nozzle with Internal O-ring
Hop Up Chamber: Umbrella Armory 3D printed R-Hop arm, G&G ARP9 Rotary Hop up unit
Bucking: Flat Hopped G&G "Green" Bucking
Inner Barrel: Umbrella R-Hop Prometheus Stainless Steel 6.03mm Tight Bore Inner Barrel (135mm)
INCLUDED
AirTech Studio ARP9 Battery Extension
(2) Matrix 11.1 V / 1450mAh /20C Deans (Stick Type) Battery
GATE Titan Advanced USB Link/Manual
Umbrella Armory Large PVC Patch
Umbrella Armory Small PVC Square Crest Patch
Umbrella Armory Medium PVC Square Crest Patch
Upgrade your rifle piece by piece to get a taste of performance or choose the complete upgrade package ready for drop in.
Every project is customisable.
Get support creating yours via chat, phone or email.
We keep you in the game all over Europe with our comprehensive warranties and full service maintenance.
First and foremost we are a team of dedicated players pursuing to push this sport.
Drop us a line and get in touch to learn more.
*Automated ChatBot takes over when our Team is Offline