Upgrade your rifle piece by piece to get a taste of performance or choose the complete upgrade package ready for drop in.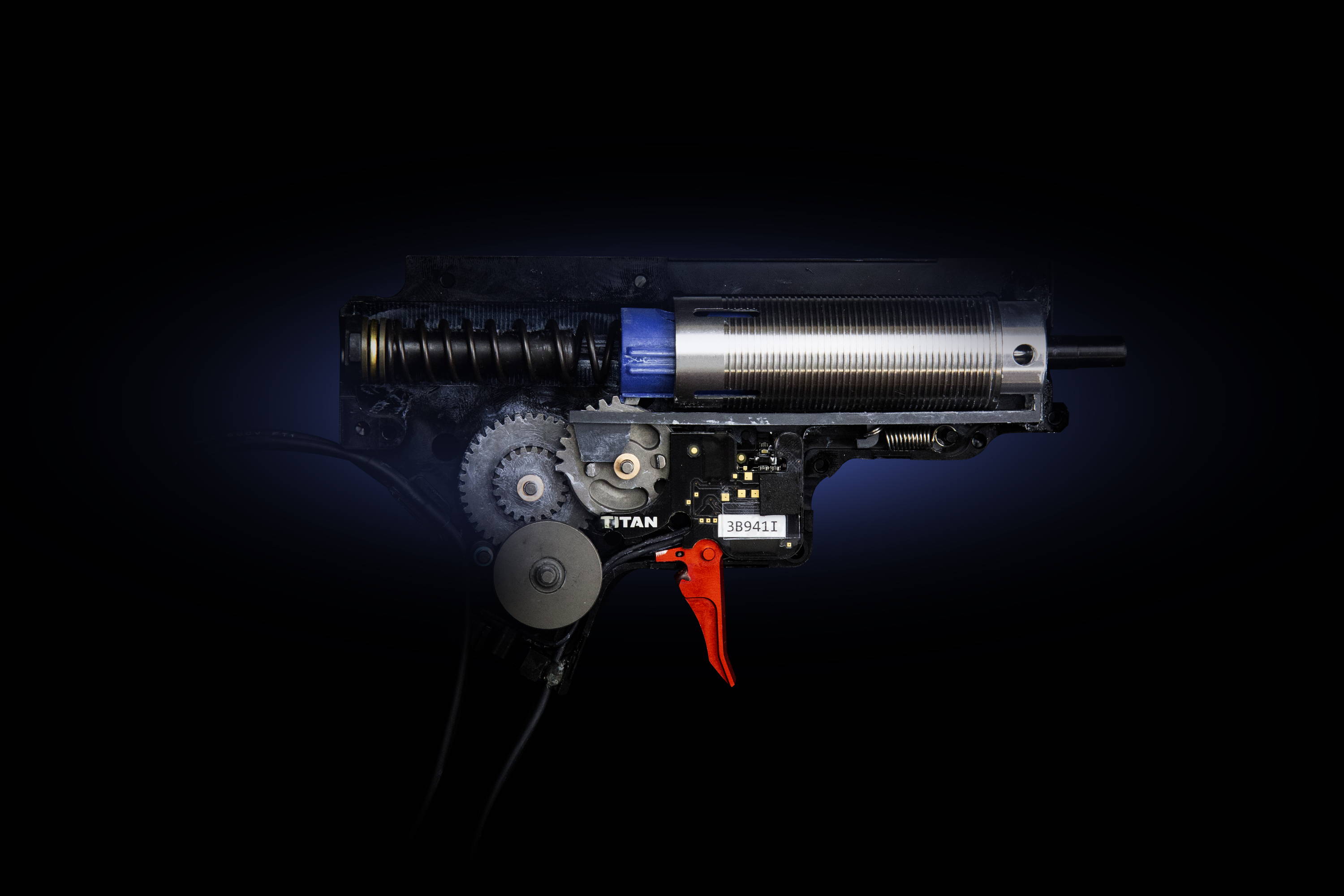 BUILD
Gearbox: Modified Krytac 8mm Nautilus V2 Gearbox Shell
Gear Set: 18:1 Short Stroked Rocket Steel DSG, Spur Gear; ZCI Bevel
Motor: ASG BOOST 30,000 RPM, 16 TPA Motor
MOSFET: GATE Titan V2 Advanced
Bearing Set: Umbrella Armory 8mm Steel Ball Caged Bearings
Spring: Guarder Steel Tempered Spring SP160
Piston Head: Lonex POM Piston Head (Washer Mod)
Piston Body: Rocket Short Stroked, 15 Steel tooth heat treated, Piston
Trigger: Retro Arms CNC Red "J-Type" modified trigger
Tappet Plate: Guarder V2 DSG Modified Tappet Plate
Tappet Spring: G&G Tappet Spring
Cylinder: Polished Krytac Brass Ported Cylinder
Cylinder Head: Modify V2 S303 Stainless Steel Cylinder Head
Air Nozzle: VFC POM Air Nozzle with Internal O-ring
Hop Up Chamber: M-Nubbed ProWin / Dytac CNC Hopup Chamber
Bucking: Flat Hopped Madbull Blue Bucking
Inner Barrel: R-Hopped Prometheus Stainless Steel 6.03mm Tight Bore Inner Barrel (155mm)
Charging Handle: Matrix Ambidextrous


INCLUDED
(2) PTS EPM Magazines (Black)
(2) 11.1v 1100 Mah Brick Batteries
Umbrella Armory Large Patch
Umbrella Armory Small Patch
Not feeling techy today?
Have our tech team take care of the heavy lifting.
We will send you all the information you need to to install this complete drop-in kit.
Step by step guide to preparing your Krytac Gearbox for the installation of the Gate Titan Programmable MOSF
Everything you need to know to choose the correct barrel for your rifle and install the full kit without sending your rifle out.
A complete parts list and best practice installation guide for a DSG build based on a Krytac PDW, CRB, REC7 or LVOA-S.
A build guide for snappy trigger response and a great air efficiency, for all types of rifles. Increase your rate of fire and range with this build.
Make your life easier with our completely prepared drop-in gearbox which will allow you to get out on the field in minutes.
Ensure that your rifle lasts you longer, decrease stress on all parts and fine tune the performance of your gearbox with this
Every project is customisable.
Get support creating yours via chat, phone or email.
We keep you in the game all over Europe with our comprehensive warranties and full service maintenance.
First and foremost we are a team of dedicated players pursuing to push this sport.
Drop us a line and get in touch to learn more.
*Automated ChatBot takes over when our Team is Offline